The Fall Fiesta Ride, scheduled for October 14 - 15, has been cancelled due to the severe wild fires active in Northern California. Our thoughts are with all our members and riders who have been affected by them.
Welcome!
Held over by popular demand!! FREE (like $0.00) memberships for brand new members in 2017!
See the NATRC National website for details. Have some questions? Check in with Linda Thomason, our Outreach / New Rider Coordinator.
NATRC Region 1 consists of Northern California, Oregon, Washington, Idaho, British Columbia, Alaska and part of Nevada. So, if you love trail riding, would like to meet more people who share your passion, and you live in Region 1, or are within commuting distance - come join us!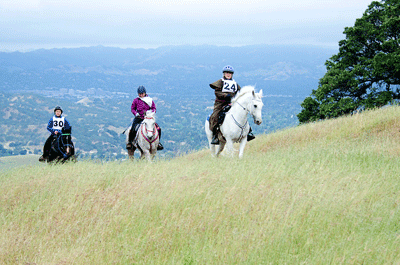 Our goals for our website are to keep our members informed about NATRC Region 1 activities, and to keep us all motivated to get out and ride. So, if you're looking for the next NATRC ride, go to the Ride Schedule page, where our 2016 rides are listed along with contact information to get signed up. If you're stuck at the office and trying to remember how you feel when you're riding, check out our Stories & Articles page, where we have links to
Region 1 ride stories,
"Reprints" of interesting articles,
Tips for first time riders,
Archives of

Leadline

, the Region 1 newsletter, and
PDFs of NATRC documents that riders might want to refer to, such as the Rule Book, and
a link to the Membership Form!
The
Judge's Corner
is an opportunity for our Region 1 judges to explain mystery rules, answer questions we forgot to ask at the rides, discuss concerns about current horse/horsemanship trends, offer praise, and generally share their expertise to better care for our mounts. The
Gallery
has pictures from rides over the past several years. And the
Links
page provides links to the NATRC National website and the sites of the other regions, as well as to the sites of our sponsors. And Region 1 tries to encourage new riders and recognize consistent, long term horses and horse/rider teams - here's a link to our
Region 1 specific awards
and their recipients. Finally, if there's something that we didn't cover, please
contact us
!
And if you've just discovered NATRC riding, and are wondering if it's the right thing for you, that same Stories &amp Articles page has a "New Riders" section to provide answers to some questions, links to information for first time riders, and first-ride stories on the web.
Come Ride with Us!
Region 1 News
New
Leadline

Posted

The Summer 2017 edition of The Leadline is now on-line. It has a couple of articles about NATRC history and a great one by Laurie Knuutila about, well, the rationales for the judgements judges make. Take a look.
Cowboy Camp was Beautiful!
And photos are posted here. We loved it so much, we've convinced Jean to do it again in October. Keep an eye on the Ride Schedule for more info.
Spring
Leadline

Posted

The Spring 2017 edition of The Leadline is now on-line. It has the list of season award winners and lots of photos. Take a look.
March 4 was the Mini-Convention!
If you weren't there, you missed a good time. We had great speakers, a good lunch (with cake!), and lots of season-wrap-up awards. Check here for the award winners and their photos, and links to the presentations.
See you on the trail!