Welcome!
Held over by popular demand!! FREE (like $0.00) memberships for brand new members in 2017!
See the NATRC National website for details. Have some questions? Check in with Linda Thomason, our Outreach / New Rider Coordinator.
NATRC Region 1 consists of Northern California, Oregon, Washington, Idaho, British Columbia, Alaska and part of Nevada. So, if you love trail riding, would like to meet more people who share your passion, and you live in Region 1, or are within commuting distance - come join us!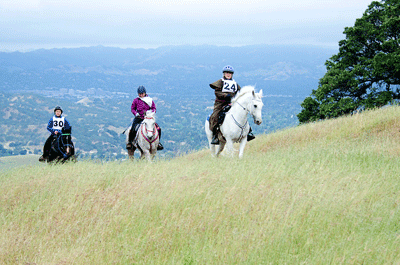 Our goals for our website are to keep our members informed about NATRC Region 1 activities, and to keep us all motivated to get out and ride. So, if you're looking for the next NATRC ride, go to the Ride Schedule page, where our 2016 rides are listed along with contact information to get signed up. If you're stuck at the office and trying to remember how you feel when you're riding, check out our Stories & Articles page, where we have links to
Region 1 ride stories,
"Reprints" of interesting articles,
Tips for first time riders,
Archives of

Leadline

, the Region 1 newsletter, and
PDFs of NATRC documents that riders might want to refer to, such as the Rule Book, and
a link to the Membership Form!
The
Judge's Corner
is an opportunity for our Region 1 judges to explain mystery rules, answer questions we forgot to ask at the rides, discuss concerns about current horse/horsemanship trends, offer praise, and generally share their expertise to better care for our mounts. The
Gallery
has pictures from rides over the past several years. And the
Links
page provides links to the NATRC National website and the sites of the other regions, as well as to the sites of our sponsors. And Region 1 tries to encourage new riders and recognize consistent, long term horses and horse/rider teams - here's a link to our
Region 1 specific awards
and their recipients. Finally, if there's something that we didn't cover, please
contact us
!
And if you've just discovered NATRC riding, and are wondering if it's the right thing for you, that same Stories &amp Articles page has a "New Riders" section to provide answers to some questions, links to information for first time riders, and first-ride stories on the web.
Come Ride with Us!
Region 1 News
March 4 was the Mini-Convention!
If you weren't there, you missed a good time. We had great speakers, a good lunch (with cake!), and lots of season-wrap-up awards. Check here for the award winners and their photos, and links to the presentations.
2017 Ride Schedule Posted
Check out our 2017 Ride Schedule and start planning your schedule around it - we hope to see you on the trail! If you need some winter inspiration, take a look in the Photo Gallery - checking out the pictures might help you remember how much fun our rides are.
New
Leadline

Posted

The Fall/Winter edition of The Leadline is now on-line. There's a story about this year's CMTRA ride (some know it as "the Mt Diablo ride") - take a look, it might remind of you of *your* ride.
Round Valley Photos Posted
Kimberly Naugle took photos at Round Valley, both last year and this year; you can see the 2016 photos here and the 2015 photos here. I think this is a trend developing - which of you eager photographers are coming to Georgetown? C'mon - you know you want to!
Cowboy Camp Photos Posted
Linda Thomason took photos (LOTS of photos) of Cowboy Camp, and you can see them here.
New
Trail News

Posted

The April, 2016 edition of Trail News is now on-line. Just in time to catch the Spring rides - read it!
2016 National and Region 1 Convention and Awards
The conventions are over and the awards have been presented - and you can see the awards recipients here and just photos of the awards themselves here. If a photo was even vaguely in focus, it's included in the albums - feel free to download. The convention and the awards ceremonies went off flawlessly; thanks to all who helped make the whole weekend a success.
Everybody Always Told Me . . .
Kaysha Egerer returned to competition last season after getting married, having a child and starting a career. Kaysha's story is about her return to NATRC. It's inspiring - take a look.
NATRC Meets AERC
Trisha Taniguchi and I rode a 50 mile AERC ride at the Gold Rush Shuffle Endurance Ride, held in Wheatland, CA. It was a first for both of us, and we both completed - my ride story can be found under Hello, AERC! on our Stories and Articles page. And there's a link in the story to Trisha's blog, where you can read her version of events. Executive summary: we both completed and we both had a great time.
Mt Diablo, Jackson Forest, and Georgetown Photos!
Emma McCrary
Emma McCrary, a legendary Region 1 NATRC rider, ride manager, and trail blazer (both figuratively and literally), has died. Information about her ongoing legacy, as well as some photos of Emma are on Emma's Page.
See you on the trail!