2021 R1 Ride Season
It's been awhile, but weeeer baaaaack - at least, provisionally. Check out our tentative 2021 Ride Schedule - we actually have seven events on the calendar and we're working out how we can do them safely. If you have questions, please contact any of the board of director members. Their names and contact information are listed in Leadline and on this website on the Contacts page.
If you need to join NATRC or renew your membership, the membership form is right here. If you download the form from this site, you have to fill it out, find an envelope, address it . . . It's also available on the National NATRC site. If you go to the National site, you can fill out the form and pay electronically - but you have to create an account if you don't already have one. Either way, go ahead and join us - it's worth the time.
Stay safe and we'll see you on the trails this year!
After that news - Welcome!
NATRC Region 1 consists of Northern California, Oregon, Washington, Idaho, British Columbia, Alaska and part of Nevada. So, if you love trail riding, would like to meet more people who share your passion, and you live in Region 1, or are within commuting distance - come join us!
If you'd like to interact with NATRC riders (and prospective NATRC riders!), take a look at our Facebook page and join our CTR discussion group on Facebook. The conversations are wide-ranging and the participants run from trail riding newbies to old hands.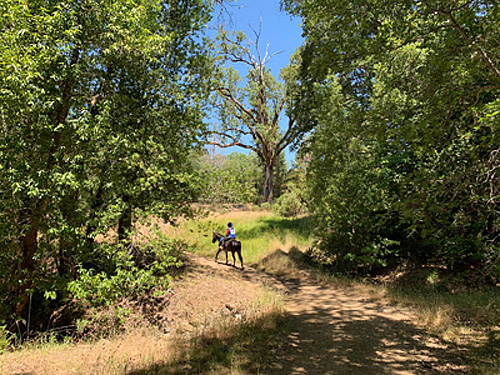 Our goals for our website are to keep our members informed about NATRC Region 1 activities, and to keep us all motivated to get out and ride. So, if you're looking for the next NATRC ride, go to the Ride Schedule page, where our 2020 rides are listed along with contact information to get signed up. If you want to get in touch with fellow trail riders even before you join us for a ride, take a look at the Region 1 CTR (Competitive Trail Riding) discussion group on Facebook. And if you're stuck at the office and trying to remember how you feel when you're riding, check out our Stories & Articles page, where we have links to
Region 1 ride stories,
"Reprints" of interesting articles,
Tips for first time riders,
Archives of

Leadline

, the Region 1 newsletter, and
PDFs of NATRC documents that riders might want to refer to, such as the Rule Book, and
a link to the Membership Form!
The
Judge's Corner
is an opportunity for our Region 1 judges to explain mystery rules, answer questions we forgot to ask at the rides, discuss concerns about current horse/horsemanship trends, offer praise, and generally share their expertise to better care for our mounts. The
Gallery
has pictures from rides over the past several years. And the
Links
page provides links to the NATRC National website and the sites of the other regions, as well as to the sites of our sponsors. And Region 1 tries to encourage new riders and recognize consistent, long term horses and horse/rider teams - here's a link to our
Region 1 special awards
and their recipients. Finally, if there's something that we didn't cover, please
contact us
!
And if you've just discovered NATRC riding, and are wondering if it's the right thing for you, that same Stories &amp Articles page has a "New Riders" section to provide answers to some questions, links to information for first time riders, and first-ride stories on the web.
Come Ride with Us!
Region 1 News
A New Edition of Leadline is out.
The 2020 Winter Leadline has a description of our Virtual Obstacle Challenge and an invitation to join in, some winter grooming tips, a story about a pandemic-acceptable horse competition, and our usual volunteer requests. Take a look.
Looking for a sucker - WAIT, I mean volunteer
Yeah, a volunteer is what we're looking for - due to this being 2020 and filled with crazy things, we need to replace a member of our Region 1 Board of Directors. It doesn't take much time - meetings are usually held at rides - and we need as many different voices as we can get when we make decisions, so please consider applying for the job. It's easy to submit a resume. Linda Thomason made up a form that covers all the bases so you don't have to think them through. Take a look, fill out the form, and get your name on the ballot for the R1 BOD!
The latest editions Leadline and Trail News are out.
The new Leadline has a breath-taking article from Nancy Kasovich about the two terrifying fires she survived; one in 1964 and 2017. She includes teeth-clenching descriptions of getting out safely, and tips for how to do it, if it happens to you. And Angie Meroshnekoff, Our Fearless Leader who is also the Driving Force behind Region 1's Jackson Forest and Eel River rides, has told the tale of the 2019 Jackson Forest ride - her story is called "Unexpected Stuff." I was there, and she's tellin' the truth - it was a circus! This is definitely the most must-read Leadline I've ever read, both for insight into real disasters and for some relief from thinking about them. And the new Trail News is out, too.
And Linda Thomason has given us a list of barn-preparedness tips in her article Barn Fire Prevention. In addition to tips, she also included her sources, where you can go for more info. Thanks, Linda!
New "Let's Ride" Webinars
NATRC members! Sign up for educational webinars the 4th Wednesday of every month. 7 PM Central Time. Watch for announcements on the NATRC Facebook group or at www.natrc.org. The topic for September is Obstacles: Setting You and Your Horse up for Success.
2019 Awards
You can find a list of the Region 1 2019 Awards here. We usually distribute prizes at our Convention - which we didn't get to put on this year, due to the corona virus. All you award winners, don't worry! We're working on figuring out the best way to get you your prizes. Worst case, we'll distribute them at this year's rides- so you'll have to attend the ride to get the prize. Darn the bad luck!!
Round Valley Photos
Thanks to Kimberly Naugle, we have photos from the 2019 Round Valley ride and they are now in our Gallery. Or you can go directly to the album. Take a look - it'll inspire you for next season!
Jackson Forest Summer Ride Photos!
More photos, thanks to Linda Thomason - this time from the Jackson Forest Summer Ride. We had Leisure, Novice, CP and Open Divisions, so our judges and vet were pretty busy, but the trails were beautiful (Shockin', just shockin!) and the weather was fantastic (that was sort of shocking). Anyhow, take a look.
Cowboy Camp Photos!
Photos from the rescheduled Cowboy Camp ride are out. The ride turned out well: the trails were dry but there was plenty of water for the horses in the multiple stream crossings, and the temps on ride-days were substantially below the prediction - you know, almost survivable. Take a look and start packing for Eel River!
Leisure Division Rides
All of our two-day events are offering our new Leisure Division rides. These are 8 - 12 mile rides set up to cover the basics of the NATRC experience - vetting in/out, map reading, P&Rs, maintaining a pace - without the distance. If you just want to find out what NATRC riding is like, or you have a young (or older!) horse that you don't want to stress with a long ride, the Leisure Division might be for you. Take a look at the Ride Schedule to see the ride dates.
See you on the trail!