The Differently-abled Rider
by Catherine de la Cruz
At the White Dog Ranch Christmas party last year, a group of us were discussing our plans for the upcoming year. Suddenly I heard myself say "I want to do a NATRC ride before my 75th birthday."
Now there's a few problems with that goal: I had been back in the saddle less than three years after a 27-year hiatus following riding accidents that eventually left me with bilateral artificial knees and hips. My 75th birthday was only nine months away. I was then only riding for an hour, once a week.
Well, my age and joints were a given, so I was going to have to work on increasing my riding time and my endurance. I began riding in the arena twice a week, with occasional trail-training rides at nearby Lake Mendocino or Jackson Demonstration Forest.
Angie Meroshnekoff's annual Ladies' Trail Camp takes place in the Jackson Forest in July and it was there I learned I was able to manage seven hours and two consecutive days in the saddle. That made the Jackson Forest Ride in August a logical place for my first-ever NATRC ride, as I had already ridden many of the trails and was more-or-less confident of my ability to do so on a competitive ride. I had volunteered there the previous three years - helping the secretary, the timers, the cooks, running errands - and knew that NATRC people were friendly and supportive of each other. I met other riders who had recovered from injuries - broken backs, pelvis, legs - and they understood the challenges I faced, physically and mentally.
However, neither my mount nor dismount is particularly graceful and I need assistance with both. In the arena, I have a stirrup-high mounting block with steps. On the trail, I need to find a stump or bank that high, but with some way for me to get up on it. Angie suggested I ride the one-day Novice B, going "DO" (distance only) and not compete for a score - therefore I wouldn't have to do a judged mount. That left only getting on and off at the start and finish of the ride and at the P&R stops. Since I am unable to run, NATRC rules allowed for another rider to trot out my horse during the pre-ride vet check; I guess Lola, my 17-yr old Missouri Fox Trotter, didn't read the rules because she didn't particularly want to cooperate with someone else. Points off for attitude! But she checked in sound and that's what I cared most about.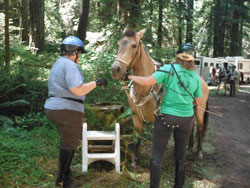 The morning of the ride, we found a convenient stump to use as a mounting block and set out with Sierra Szupello, another of Angie's students, a former Junior NATRC rider. The first judged obstacle was the river crossing, which is approached via a narrow, steep, sandy single-track. Downhills are physically difficult for me and I still tend to freeze up at water crossings as both riding accidents ended with me face down in a creek. Feeling my hesitation, Lola decided she was in charge, and pulling the reins out of my hands, she made a perfect descent and crossing. I remembered to two-point as we headed up the opposite bank and somewhere along the line got hold of the reins again. Judge's comment on the horse was "calm" - good thing she couldn't see into my head!
We both settled down once we hit the well-marked road and I began to enjoy the cool morning and the surrounding redwoods. At the first intersection, Sierra and I noted we were 15 minutes ahead of schedule - right where we should be at that point. We turned onto an uphill single-track and Lola's rear drive was so strong that I could feel her stifle touch my stirrup as her leg came forward.(Oops- have to correct my leg position.) We came into the first P&R still 15 minutes early with both horses in excellent shape. The P&R crew helped me off my horse and when the checkup was over and I had watered my horse, they helped me back on with the aid of a small step-ladder I had asked them to carry.
A long set of steep down-hills followed, and we took them slowly and carefully. We came out onto a logging road where we were passed by a couple pick-up trucks who considerately slowed as they went by. Turning onto the aptly named Park Gulch trail, I was amused by the three redwood posts that had been set there to block vehicle traffic - they were actually sprouting branches and turning into trees. The single-track trail ran along the side of a canyon thick with redwoods and firs, with ferns and wildflowers. It was breathtakingly beautiful. When we later come across the horsemanship judge, who wanted us to go down a bank into the creek, I chose to pass. I'd had enough "down to the creek" for the day. Sierra, however, did very nicely.
We had lunch in camp, which gave Lola a chance to eat and me a chance to ice a sore knee. After lunch, we headed uphill from camp while Open and CP headed down for the dreaded "Dragon" trail - a winding, very steep uphill single-track that definitely separates novices from the rest. Our big challenge for the afternoon was the "Roller Coaster", a series of six hills, each steeper than the last, with only a short flat "bench" separating them. Stopping at the third bench for a rest, I could see the forest spread out to the west, all the way to the fog bank at the ocean.
As we got to the top of the next-to-last hill, there was a judge - who asked for a canter to her, then a trot up the last hill into the P&R! This was really a challenge for the horses and most riders pulled saddles and sponged water over their horses at the stop. Lola had an excellent recovery rate - 9 and 2 - so I hand-walked her to the water, then a P&R worker helped me remount with the aid of the step-ladder and a truck tail-gate. Another rider, also with a replaced hip, was receiving similar help at a nearby stump.
The rest of the ride was a gentle downhill toward the last obstacle. The riders were asked to have the horse climb a rock, then turn around at the top and go down the way they came up. Alas, Lola knows the rock well, as it's a frequent feature of Angie's trail camps, and she decided SHE knew better than I the proper way to go down, so we had a bit of a "tap dance" on top of the rock. I finally gave her her head and let her descend her way. Not what the judge had asked for, but we made it safely.
The P&R crew had left filled water buckets at the 2-mile point. We watered our horses, checked our time, and headed back to camp at a swinging walk, coming in right at mid-time. I rode to our trailer and realized I was too stiff to dismount by myself. Nancy Kasovich was passing by and gave me a hand.
That night at awards, a cake marked "Happy Birthday" and "Congratulations" was served. The birthday greetings were for Rules Interpreter Jamie Dietrich and the congratulations for me! I was further surprised when Lola received the blue ribbon for first place Novice B horse. The ride was over! I had done it!
I wasn't in competition the following day when Novice A, Open and CP went out for their second day, so I went back to my role as volunteer and spectator. As I look back on the eight months since I said I would ride, I realize that I have much more than a ribbon to show for the effort. The journey to my goal built a stronger relationship with my daughters as my teachers and supporters. It built a solid relationship with my horse as we came to understand and trust each other. It brought me new friends, in NATRC and in our Mature Ladies Riding Club at White Dog Ranch. And it showed me that I could change my way of thinking to encompass different paths to a goal. I'm happy I've made my first NATRC ride - I have a feeling it won't be my last.