Hello, AERC!
The Gold Rush Shuffle AERC Ride - Our First 50!
Note: I rode with Trisha Taniguchi, another NATRC rider, also on her first 50. Her version of the ride can be read here. While you're there, check out her NATRC blog.
I have a friend who is a serious endurance rider - her resume includes The Pony Express Ride, from Missouri to California, twice. And the Western States 100, better known as Tevis, completed, twice. She was recovering from an operation and hadn't ridden for awhile, so when I said I was heading for a two-day NATRC ride, she announced that she was going to go, too - it would be a good check-point to see how close she and her mare were to being ready to return to endurance. So we went to the Lake Mendocino NATRC ride. I waited a couple of days after we got back to ask her what she thought of the experience. There was a pause, then she said, "It was sort of fun." Then a long pause. Then she said, "Actually," like she suddenly realized that she really *did* believe that it was fun. And, after doing Sunny and my first 50 mile AERC ride, I think I know how she felt - I thought it was sort of fun. Actually. The following is the story of the ride.
I had promised Sunny's breeder that we would at least try endurance. In fact, that's how we started in NATRC: after volunteering at both NATRC and AERC events, I thought that the NATRC environment would provide a step-wise introduction to ride camp and dealing with a lot of horses on the trail, rather than jumping into a race situation. I ended up enjoying it so much that we just weren't getting around to the endurance ride that was the reason for starting in the first place. Anyhow, I've been putting off the effort for about four years and I decided this was really going to be the year, I just had to decide on a ride. It couldn't be too hard or too easy, or conflict with any NATRC events or family obligations . . . Finally, there was just one ride left in the season - so that was the one: The Gold Rush Shuffle, a 3-day ride held the Friday through Sunday after Thanksgiving at Camp Far West, near Wheatland, CA. I entered us in the 50 mile ride on Saturday.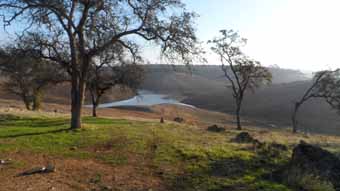 We left Friday morning and had a totally uneventful trip up. The best part was on the county highways between the freeway and Camp Far West - there was a field bordering the road that had 8 foot tall (maybe?) metal sculptures of various dinosaurs along the fence line. There was a different sculpture every couple hundred yards for a mile or so. Sure woke me up!
We arrived at camp around 1 PM and parking was our first hurdle. There were a lot more rigs and a lot more big rigs than at a NATRC ride, and they were sort of scattered all over. After years of NATRC, I couldn't bring myself to park too close (IMHO) to another rig, so my parking choices were limited, but a really nice young woman, Kristen, helped me find a slot. I got parked and set up camp as I would have for a NATRC ride, which made me the only person there with wheel covers for my trailer. Oh yeah, as you can see from the picture, the weather was perfect.
Slight digression: an hour later, the parking area had maybe 20 more spaces available. By the time I walked to the ride briefing, the camp was jammed. When we came in from the ride on Saturday, there were spaces available, but by the time Sunny and I headed for home on Saturday, the lot was full again. I realized that this was due to it being a three day ride, in which you could ride any or all of the days - so one day riders were constantly coming and going, unlike a NATRC ride where, if you're a one day rider, it's a specific day, not your choice of days. It was pretty confusing and sort of stressful: while I was vetting in, someone parked right in front of my rig and someone else had parked to my right, between me and the road - there was no way I could get out of my parking space. I guess this happens a lot because when we got ready to leave on Saturday, before I even asked for help, the guy in front of me started reorganizing his space to make room for me to leave.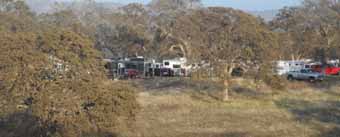 I then wandered up to the ride headquarters to pick up my ride packet. I asked if there was going to be a first-time rider briefing and there wasn't. Then I asked if there was anyone that might be open to riding with a newbie and there wasn't. Then I opened my ride packet. There was a vet card, an advertisement, and a single sheet of paper, stating the color of ribbons for each of the three days worth of rides. For our Saturday ride, the ribbons were going to be orange and blue and we were to make "hard left turn at the concrete bridge on the way out" and go "straight on the way in." End of directions. Uh oh. I composed myself and started hoping for the best at the ride briefing.
I got Sunny and went to get vetted in, where I first used my AERC mantra: "This is our first ride. Tell me what you want us to do." It worked to perfection: the vet and his secretary gave clear directions and were really helpful and encouraging. (Note: I used the "This is our first ride . . ." line at all confusing points and both other riders and volunteers came running to help.) The exam is very much like the NATRC exam - external wounds, muscle soreness, then metabolics and hydration. The trot out was just an out and back, no circles. When I came back from the trot out, the vet said, "You do NATRC, right? I can always tell, you really know how to show your horse in hand!" Oh yeah, in AERC, they pretty much care about the horse, not the rider, so I didn't have to wear a bib or a number anywhere. Sunny, however, had to have her number chalked on her butt, in hot pink, with numbers about a foot high. Sunny passed check-in with flying colors, so we went back to the rig, saddled up and went for a ride. The weather was still gorgeous, by the way. Ha.
Dinner was served between 4:30 and 6:30, so I wandered up to HQ just as it was getting dark. Along the way, I heard someone say, "Donna?" It was Trisha, a young NATRC rider from Davis. She had done Limited Distance (LD) AERC rides, but she was going for her first 50 on Saturday. We chatted for awhile about our goals for the ride, and we seemed to be agreement: perfection would be finishing last or near-last, but within shouting distance of other horses. We hadn't ever ridden together before, so we agreed to at least start together and see how our horses did. Boy, was I ever relieved to have a partner in crime, at least to get started!
The ride briefing was intimidating. There weren't any more maps; what was in the ride packet was what we rode with. Oh well.
The briefing was over about 7:25. By the time I'd walked to my camp, it had started raining and it continued to rain pretty much all night. There would be a gentle shower, followed by a cloudburst, followed by a short dry spell. Since I was in my metal camper, I could hear the changes and every time the rain stopped, I'd jump out of the camper and check to make sure that Sunny hadn't melted. She stayed warm and dry (under her blanket, at least) all night, but I don't think either of us slept at all; there was too much weird stuff going on for Sunny, including me annoying her by feeling her belly, and I was too worried about her.
It quit raining about 5:30, and stayed dry for the next six hours or so - until the last about 10 miles of the ride. Whew! Just about 6:30, the nominal starting time, I finished tacking up Sunny and joined the tail end of the stream of riders heading toward the starting line. Just as we merged, I saw Trisha and Jake. We called out our numbers as we passed the starting line/timer's station and off we went, with an out time of 6:34.
I shouldn't have worried about getting lost; this was the best marked ride I've ever been on and, I suspect, ever will be on. Since we started at 6:30, it was still pretty dark - so there were little glow bars stuck in the ground about every 100 yards for the first half mile or so. We saw them on the last couple of miles at the end of the ride, as well. We didn't need them, but the previous day's ride was much more demanding and several riders finished in the dark - I'm sure they appreciated them. Anyhow, it was sort of like riding by candlelight. After it got light, we had the orange markings, as promised, and they were everywhere: there was orange fluorescent paint on rocks, on grass, on trees, on old buildings, everywhere. And there were ribbons anywhere there was a place to hang them. I honestly believe there was some sort of trail marking every 200 yards of the entire 50 miles of the ride. The sense of security was fabulous.
The trail went around and through the Camp Far West reservoir and wrapped around Beale Airforce Base. The terrain was rolling hills, not too much really flat stuff but no really long climbs. I'm guessing that probably 75% of the ride was on singletrack or doubletrack, much of it trottable. The only problems were that the ground is mostly clay, so it was slippery, particularly on the descents. Secondly, between the storm a couple of weeks ago and the rain the previous night, there was just a lot of water on the route. The existing erosion paths were running water, the water in the creeks was knee deep and running fast, and there were puddles and flooded places all over the trail. I guess it's been long enough since we've had really wet conditions that Jake and Sunny took turns rebelling against getting their feet wet. Fortunately, they did, in fact, take turns, so one of them was always willing to lead the other one through the sketchy parts. Finally, the water hadn't had time to settle so it was pretty muddy and neither Jake nor Sunny thought it was very drinkable.
I really enjoyed the scenery of the ride - lots of gold and brown grass with oak trees topping the hills. Although it didn't rain until the end of the ride, the clouds threatened all day, which made the sky a dramatic backdrop.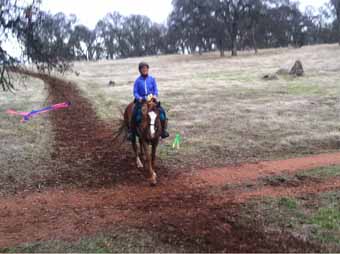 We took off near the back of the pack, but not last - so we got passed by several groups of horses. Sunny and Jake (particularly Sunny) wanted to stay up with each passing group for awhile, but settled down pretty quickly each time a group went by. One pair of riders must have passed us four or five times; they kept dropping things and having to stop and pick them up. Anyhow, you could could see "the bubble distance" on this ride: looking ahead, you could see that the groups had spaced themselves at a pretty consistent distance. This happens on NATRC rides, but I guess since there are (a) fewer of us and (b) we are all going the same speed, in general, we don't see the effects of passing as much or how people distribute themselves. A side effect of this was that after the bubbles were established, we were conscientious about keeping our distance from the other groups, which, near the end of the ride, slowed us down - we could have trotted quite a bit more, but didn't want to do the pass-and-be-passed exercise.
Anyhow, we sort of drifted to the back of the ride and let everyone else get out of sight. As soon as the horses got resigned to being on their own, we started trotting as much as we could. We weren't tempted to go like crazy because the footing was too precarious, so we may have walked more than we would have if the conditions had been better - which was probably a really good thing. Another good thing is that Jake has a serious walk on him, and Sunny felt compelled to keep up, so we kept moving, even when we were walking. That said, Jake would lead for awhile, either trotting or walking, then just give up, so Sunny would take over and she'd go until she just couldn't stand the responsibility any more, so Jake would step up . . . It actually worked out pretty well: both of them got to set the pace and both of them got to relax in the back, although Trisha was much better at keeping Jake at a safe distance from Sunny than I was at keeping Sunny off Jake's butt.
Another AERC/NATRC cultural difference: it seemed like all the riders were comfortable with their horses *really* close to other horses, in camp or on the trail. I think I'm going to start putting a red ribbon in Sunny's tail, just in case. I was really concerned several times, particularly on the last part of the ride, where Sunny was cranky.
Our first and only directional challenge came at the concrete bridge mentioned in the paragraph of route instructions. With Trisha's help, we managed to turn under the bridge and take off on the loop for the 50 milers - the 30 milers, who had started at 7:30, continued on straight. The loop was probably about 8 miles, and took us up and over several ridges, then returned us to the bridge. Just before we got there, though, there was a bucket hanging from a tree, containing a bunch of play-money coins. We each had to get one of the coins out of the basket to turn in to one of the ride officials to show that we had done the extra loop. That cracked me up; it was SO NATRC - I was expecting to see a Horsemanship Judge lurking in the bushes watching us sidepass our horses to the bucket! Anyhow, Trisha and I each got our coin and re-joined the original trail. Oh yeah. The duo who kept dropping things at the beginning of the ride suddenly appeared on our tails as we turned onto the trail - they had gotten confused and were waiting for us to point them in the right direction. They had NO idea how funny it is to think of someone waiting for me to offer navigation advice. Anyhow, they passed us very quickly.
Not long after the bridge, we had our first vet check. It was planned to be a 15 minute hold, but due to the weather/temperature, they skipped the hold part. So as soon as your horse met pulse criteria (60 bpm), you went to the vet and if you met her standards, you were back on the trail. I think that if they hadn't changed it, the 15 minute hold would have started as soon as the horses met pulse criteria and after the 15 minutes, we would have moved to the vet. Anyway, Trisha and I dismounted as we came in and a volunteer immediately came over and took the horse's pulse. Both horses met criteria immediately, so we progressed to the vet, who did an overall check, mostly metabolics, and watched us do a trot-out, then swatted us on the butt and sent us back out, so we climbed back aboard and took off. Again, the vetting process was very similar to NATRC. I really appreciated the flexability that allowed ride management to remove the 15 minute hold - it was cold and getting closer to rain every minute. Oh yeah, Sunny's first move when I dismount after a long ride is to scratch her face on my back. I know it's frowned on, but it's a win/win - she gets her itch scratched and I get a back rub. Unfortunately, it also raises her pulse. In NATRC it doesn't matter much, since she has another 9 minutes to calm down. In AERC, with a volunteer dancing around trying to take her pulse while she's scratching, it could have turned out badly.
Just a few miles out of the vet check, we came back to camp for lunch. Again, it was originally planned to be an hour hold, but they changed it to 30 minutes because of the weather. I didn't understand the process, so I went immediately to the vet for check-in, not stopping for a blanket for Sunny. It turned out not to have horrible consequences, but it was definitely an error of judgement: it was cold. Again, Sunny and Jake both met criteria instantly, so we returned to our rigs, blanketed the horses, and gave them lunch. Trisha's sister, Cassie, came over and gave me a hand during lunch while Trisha's Mom took care of her and Jake. About 25 minutes into the hold, I pulled the blanket, tightened Sunny's girth and we headed for the out-timer. Boy, was Sunny shocked and disappointed! We had done about 38 miles - just about as long as her longest NATRC ride - and we were going back out??!! I got her out of camp, but both she and Jake had serious glue feet: our first mile was at about 2 mph. And a man and his daughter caught up with us and were attempting to pass at a point where the trail narrowed, so the guy sort of ran his horse into Sunny - who threw a kick! Sheesh. I was embarrassed that she'd done it, but not surprised. Red ribbons for sure.
On this leg, we never got out of sight of three or four groups in front of us. About a mile out of camp, a group of four suddenly slowed down, and we caught up with them, just in time to do a group-pass through the only herd of cattle we saw on the entire ride. Sunny and Jake led the pack through, although Sunny hopped a little when a calf came running out of the tall grass, right across her path. The route took us down into the bed of the reservoir. I read on-line that the water level usually drops about 60 feet in the Fall. This year, though, it was almost bone dry. Well, actually not bone dry - it started raining again while we were on the lake bottom. I'd forgotten what a pain it is to ride with water drops all over your glasses. When we started the climb out of the reservoir, the route intersected with the ride that Sunny and I had taken yesterday, and she was pretty convinced that we should just take that route home, and she had Jake on her side, as well. We finally convinced them to carry on and just as we finished the longest climb of the day, Trisha said, "There's camp!" And she was right, it was about another mile away - the last loop seemed really short.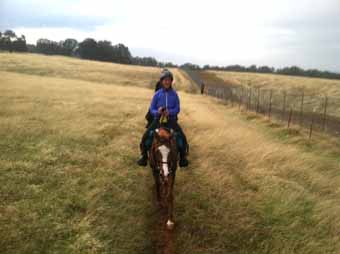 We got into camp and this time I took the time to take off Sunny's tack and put a blanket on her, and we then went to vetting out. There were lots more horses there this time, so we had to wait, but they had piles of grass hay and big water tanks out, so Sunny seemed happy. She did well on the trot out and the muscle/back checks, but her hydration and gut sounds were worse than they had been at check-in. The vet, Jamie, cleared her though, so our official time out was 3:05 - so we did our 50 in 8.5 hours, end to end. I'm not sure if they count hold times in the total times in AERC, though.
Jamie, the vet, wasn't worried about Sunny, but he remembered that I was a new rider, so he had me do a two-hour check-back, which is a step some vets are trying to introduce into the endurance world. It just means that you have to wait two hours after you finish the ride and check back with the vet about your horse's condition. In my case, he walked back to my rig with me, took Sunny's pulse, re-examined her gums, skin tenting, gut sounds, etc., and looked at one of Sunny's manure piles and talked to me about possible signs of colic (she didn't have any). Then he asked about how much she'd drunk. He was impressed that I knew that she'd drunk about 35 swallows at the tank, but was unimpressed when I said "and about two inches from her water bucket." He was really clear that I should know how much that was, so I'm going to fill the bucket a gallon at a time and mark the levels so I'll have a more accurate estimate next time. If there's a next time. (He also said that there are approximately 30 swallows per gallon. I think.) Anyhow, he was really enthusiastic and wonderfully helpful. Trisha pulled out as we were talking.
It continued to rain, so as long as Jamie was there, I asked him if he thought it would be okay to trailer Sunny home that night to avoid both another night in the rain and the post-Thanksgiving traffic. He thought that it would be okay, as long as Sunny was comfortable in the trailer, which I think she is, so we took off and made it safely home. I talked to someone who had spent Saturday night in camp and she said it dumped rain all night and all morning - so I think I made the right call.
I actually really enjoyed the ride. I don't think this particular 50 miles was too much more difficult than the 38 miles and 5400' of climbing on Day 1 at the Round Vallley NATRC or the 37 miles and 4800' of elevation on the first day of the Sage Hill NATRC - so although I was sort of forced into choosing this ride, it turned out to be a good entry point for us. One thing that I hadn't anticipated was how much focused riding you can do if you're going for 50 miles. We trotted for (what seemed to me) long, long stretches and I had time to think about changing diagonals, and where my weight was, and if I was hanging on the reins . . . I really feel like I made some progress on being aware of how I ride and some practice in skills I need to develop.