Sunny Revisits Jackson Forest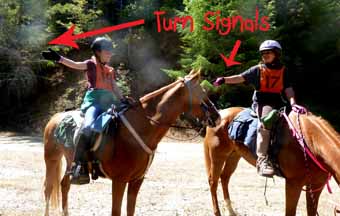 Practicing Driving
So. This is going to sound really sappy, but it's All True, so I'm tellin' it like it happened.
Last . . . April, maybe, I did a presentation about Competitive Trail Riding (CTR - the real name for NATRC rides) for the Santa Cruz Horsemen's Association, which I belong to. Fortunately, I was really clear that I didn't speak for the organization, and that it was just my own, newbie opinion of the sport. I say "Fortunately" because about 2 minutes before I was to start, Emma McCrary and her daughter walked in.
Those of you who aren't from Santa Cruz may not recognize the name, so I'll fill you in. Emma was 82, I think, when she came to my presentation. I had met Emma before, but we just moved in separate horse circles: she wrote and published a book on natural horsemanship in *1979* (Influencing Horses) and stayed passionate about horses, while I was in the group of wannabes who were glued to the TV screen, trying to memorize the Pat Parelli DVDs in 2006. (It was before I met Marybeth!)
Emma had been riding NATRC rides since the very beginning of the sport, in the 70's, and had put on her own NATRC ride for about 20 years, I think. And when I say "her own NATRC ride", I'm being literal: the McCrary family are Big Creek Lumber, with access to thousands of acres of forest along the Central Coast, and Emma cut trails for her rides through that property. Actually, she was responsible for many of the trails even in the Santa Cruz county state parks. True story: Linda Thomason, a local NATRC rider, once went out with Emma to clear and mark trails for a ride and Emma cut branches off trees while mounted on her horse. With a chainsaw! Sheesh.
Anyhow, when Emma walked in, I gulped hard - all I needed was *real* expert in the audience. So when I started, I asked Emma to help me out when I got stuck and then just dove in. Emma was great. I'd glance over at her, and she'd be nodding and smiling. A couple of times I got asked questions about rules and processes, and Emma jumped right in. By the end of the presentation, we were rolling; somewhere in there we described a NATRC ride as a long stinkin' trail ride on someone else's favorite trails, with a potluck at the beginning and a barbeque at the end. It was really fun.
After the presentation, I went over to where Emma was standing, to thank her for her support. Emma quickly got that out of the way, so I asked her if she was going to be doing any rides this season, to which she replied, "I'm doing all of them." "All of them?" I said, pretty surprised, since she had been very ill, in and out of the hospital all winter. She said firmly, "All of them."
This season has been crazy for NATRC rides; because of the herpes virus, all the rides but one got rescheduled, so when I didn't see Emma at the rides, I figured that the scheduling just hadn't worked out. Then I got a phone call: she had died of pancreatic cancer. There was a memorial service for her at the end of July, which was attended by literally hundreds of people, most of them involved with horses in some way. At the service, small purple rosettes, with a horse pin in the center were handed out. I put my rosette on my overshirt that I wear for horse tending, so it pretty much stayed with me.
On the weekend of August 20-21, the Jackson Forest CTR (remember? The real name for a NATRC ride?) was held in, no kidding, Jackson Forest. Jackson Forest, just inland from Ft. Bragg, is one of two demonstration forests in California, and is beautiful. Ride camp is in the middle of a grove of huge trees, with a stream running through it. We couldn't use them during the competitive part of the ride, of course, but there are paddocks for horse camping when you're not competing. I went to this ride last year and, in addition to being in a beautiful place, it's a favorite because it's a really relaxed, calm ride from beginning to end.
It was a long drive up from Santa Cruz but Laura and her dad had saved us a place to park our rig. As a result, I was able to quickly set up camp and get Sunny vetted in, so she could settle in at our campsite, which she was able to do almost immediately, since she was butt-to-butt with Laura's horse Tango - whom she hates on the trail, but loves in camp. Poor Tango. Shortly after, I toddled off for the potluck part of the ride, where it seems like everyone there asked me about Emma's memorial service. After dinner, the ride manager described the trail markings for the various classes, and then sent us off to bed.
Surprisingly, to me at least, it was really quite cool. When the alarm sounded at 5:30 AM, it was *darned* cold, so I put on a jacket and my overshirt while feeding and tacking up Sunny. Any time after your horse has been vetted in, you have to wear a bib with your number on it so that judges can identify you if you do something particularly stupid, so when I pulled my bib over my shirt, the bib stuck on the rosette. I pulled it off my shirt and put it on my bib; it occurred to me that the constant reminder of Emma might make me ride like Emma, too.
Just as I was about ready to gather Sunny up and head for the start, the ride manager asked if Laura and I would "sponsor" a couple of eleven year old juniors, Carli and Jody. Juniors have to be accompanied by an adult sponsor in order to do a NATRC ride, for obvious reasons. These two were students of the woman who did all the trail marking, route mapping, and trail clearing, so we were particularly glad to be able to pay something back. And, ultimately, these juniors bailed me out - they had helped mark the trail, and as a result, saved me from a couple of wrong turns! Also, the juniors, Carli and Jody, had horses that matched Sunny - tiny chestnuts with a lot of chrome. As we took off, we looked like a very poorly organized drill team.
Anyway, we left camp in a heavy fog. Tango is on a mission to prove he can do Open next year, so Laura and Tango were in the lead, Carli & Caley and Jody & Hotshot in the middle, and Sunny and me bringing up the rear. The first obstacle was to cross a good-sized creek. When we got there, there was a horse "stuck" on the creek edge; he just couldn't get his feet wet. The judges gestured for us to come down and cross, rather than wait. Laura and the kids got through stylishly, but when Sunny and I got there, the horse spun and started back up the path. So Sunny did, too, for a short bit, but she settled down, turned around and crossed the creek.
For the curious, the stuck horse was a new partner for a very experienced rider and they were riding with another very experienced team. The two "teams" waited until all the other horses had gone through, then worked the horse across. Ultimately, the rider put a halter on the nervous horse, and the person who was riding with them led the horse across the creek with the rider aboard. They passed us near the end of that day's ride. I love The NATRC Way.
Just after we got out of the creek, we had to cross Highway 20, which was really busy. There were volunteers sort of spotting for us, but crossing a road with fast traffic with a multiple horse "train" is always worrisome, since if one horse goes, they *all* go, or at least want to. We waited a few minutes to get a good long gap and got across safely. The ride was a little over 20 miles, I think, and it stayed cold all day. Sunny and I brought up the rear for most of the ride, so I got to watch Carli and Jody. Somewhere around the mid-point of the ride, they started listing parts of their horses (and themselves) that corresponded to parts of a car: stomach/gas tank, nose/air filter, arms/turn signals, etc.- see the photo at the top of the post. This conversation ended up continuing for the rest of that day's ride and into the next.
The ride was beautiful, but uneventful until the last couple of miles. Just after the two mile point (two miles left to go), the route left the fire road we were on, and had us hop up a steep little hill. Sunny and I hopped okay, but she was *shocked* to see a bench at the top of the bank! Then we had to cross a little wooden bridge, which was *far* too narrow for a horse of her massive size! It was outrageous! Sunny really was beside herself. Shortly thereafter, *I* was beside myself - there was a . . . 5 yard drop that was truly in the "Man from Snowy River" realm of steepness - Sunny went down on her butt. Whew!
We had to re-cross Highway 20 right after that, but it was a non-issue this time, and there was no extra horse standing in the creek, so Sunny just marched through. I found out later that, for the first time, the horsemanship judge felt that I rode Sunny "all the way through" the creek. Still not sure what I did differently but I hope to do it again! We finished about 3 PM, cleaned up the horses, and went to the awards for the one-day riders, and dinner.
On the second day, the juniors consented to ride with us again, so we met up at the start. Just as we were going off, the Ride Manager asked us if Alexis could ride with us. Alexis was a first time rider who came with an Open rider. They rode together the first day, but the Open route was different enough from the Novice route on Day 2 so that it wasn't practical for them to stay together. So there were five of us.
Alexis had just graduated from an EMT course, done her ride-alongs, and had a job waiting for her when she passed the state-level exam. She had been introduced to horses just a year or so ago and found that they were tremendously effective therapy for her after spending her days dealing with the results of horrific accidents. She told me that 90% of EMTs leave their jobs within 3 years of being hired. There are lots of potential reasons for that, but at least part of the resignations must be due to the stress. I can't imagine a better therapy than horses - when you're with them, you can't be thinking of very much of anything else.
Our Crew
The second day's ride was great - we rode up out of the fog and looked down on the miles of fog covered ocean. There was an endurance ride in Ft. Bragg that weekend, and a woman I know from Santa Cruz rode in it so I sent her this photograph, which was taken from our trail: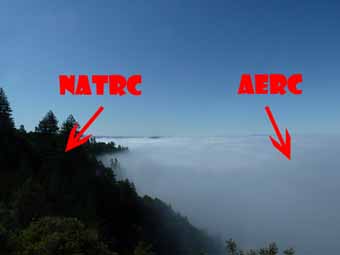 CTR or Endurance? Sunshine or Fog?
Let's see. The "obstacles" were the creek crossing and a judged mount and dismount, as usual. The unusual one was that we had to stand as a group, then each horse had to leave the group at a trot, stop at the judge's command, back up, then trot off and wait for the rest of the horses. Sunny seemed to do well at all of them, and she was great at the Pulse and Respiration checks, with her pulse usually in the 40's (it has to be under 60). The second day's ride was only about 13 miles, so we finished relatively early.
When the vet and horsemanship judge completed their calculations, we reconvened for the two-day rider awards. Sunny won Best Horse in Novice Lightweight division - which she's done frequently before. The big surprise was that Sunny and I won Sweepstakes - the combination of best horse and rider in all the Novice divisions. This is a pretty big deal - we've never done it before. So, to circle back to the beginning of this, I *did* ride like Emma, or at least *more* like Emma. And she's coming along on our next ride, too.