Our Welcome Back to NATRC Clinic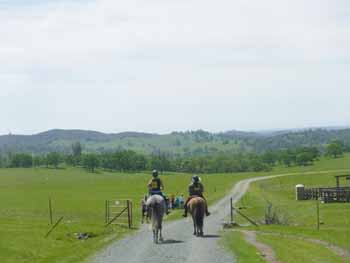 The way all this started, as I understand it, is that Sheila Christiansen, Fearless Leader of the Region 1 Competitive Trail Riding (CTR) Facebook discussion group, detected some interest in that community in actually doing a ride, instead of reading about them - so Sheila decided to put on a combination NATRC clinic and introductory ride in Region 1. The clinic was designed to introduce interested riders to the general idea of NATRC competitions - without the competition or the mileage. Sheila's strategy was that this would expose people to the basics of the sport and either reassure them that they and their horses were ready to compete in a NATRC ride, or would motivate them to get to where they'd be comfortable competing. And (spoiler alert!) I think it worked on all fronts. Here's the story, from my perspective.
The clinic was a one day event held on EBMUD property near Lake Pardee. The plan was to meet around 8:00 AM at the Pardee trailhead and get parked. At around 9:00 AM, everyone would congregate and a couple of speakers would explain things like ride timing, what vet and horsemanship judges are looking for, and then go over the map. After that all the horses would be vetted in, then the crew would all head out on a timed 8-mile ride, with a P & R (Pulse and Respiration) stop and a couple of obstacle/observation points.
I thought it was a great idea, in principle, and was really impressed that Sheila was taking it on. Then came the phone call: she asked me if I would ride Point. No way could I refuse when she was putting in the effort and generating the interest. What I don't think Sheila appreciated is that I can get lost going around the block - and I mean the block that I live on! I was not sure that my acceptance of the job was a good idea for our sport, but I agreed. Sheila must have ESP'd my panic because then she suggested that I come up a day early and help her ribbon. I think that "help her ribbon" is a concise way of saying "if you're so scared, come up and put enough ribbons around so you can't get lost!" Which makes a lot of sense, so I did.
Sunny and I met Sheila in Valley Springs and went up to the trailhead. I was stunned at how gorgeous it was. It was a beautiful, clear day, and the colors, mostly shades of green, were incredibly vibrant. We tacked up, filled our saddle packs with 100 ribbons (Sheila counted), tape, and baling twine, and headed out.
Our first adventure occurred within a couple of hundred yards of the start: a rattlesnake taking in the sun on a drainage area right next to the trail. It was still cool, so he was sluggish, but managed to head down into the culvert before I could get my camera focused, but Sheila caught him - he's a pretty intimidating character, eh? (And just so you know, we didn't see another snake for the rest of our riding there.) After that, Sheila and I were on high alert for quite awhile, but I don't think either Sunny or Cooper even noticed.
We started putting up ribbons at the first opportunity but there weren't that many opportunities; there were lots of trees but most them were significantly off the trail, making the ribbons less visible. We might have missed a couple of spots because we were distracted by the scenery, the colors were so intense and the vistas so broad. And the flowers were starting to come out.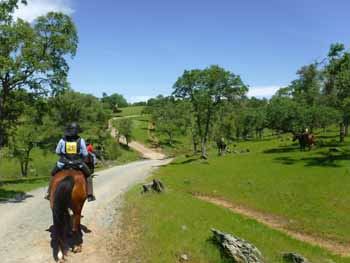 Our ribboning trip was close to perfect, I think - there were only a couple of interesting moments. The first came shortly after Sheila put me in charge of a large roll of packing tape. At the second point where she asked for it, I discovered that I'd dropped it somewhere on the trail. We decided to let it go and get our job done.
The second point of interest was when we went through our first gate, behind which was a group of cows and calves. Sunny and I have done a few cattle clinics, but there just aren't any cattle on the trails in our area, so when I saw them, I asked Sheila what to do. She said to just walk right at them and they would move. So we did, and they did. Sheila qualified that approach, though, by saying, "If you see a bull, moooove awaaay!" We ran into a few more cow clusters and Sunny marched right through them.
We finished ribboning around 3 PM and headed over to the horse camp where we would spend the night. By the time we got Cooper and Sunny settled into the (very nice) paddocks, Linda Thomason and Stephanie Swain had arrived - Linda was volunteering as the horsemanship secretary, I think, and Stephanie was going to do P & Rs. Sheila knew that several of the participants were going to camp there, too, so we gathered up our snacks and headed out to find them, which we did. I think there were eight(?) of them camped there, and they'd already started a spontaneous potluck, so we added our contributions to the table and got acquainted.
The next morning, the volunteer cadre left camp around 7 AM, in order to pick up coffee from Starbucks in time for the arrival of our riders. And they started arriving just at 8 AM for sign in. The actual program started at 9 AM. Debbie Murphy, who acted as both horsemanship judge and vet judge, gave a short description of what she was interested in, and Sheila gave a briefing on the route. We then adjourned to an area that was set aside for vetting in. Sunny and I were the demo team for Debbie to explain the vetting-in process. After we passed (whew!), all the participating horses were vetted in and saddled up.
Pretty much the instant that the last horse was vetted in, I got timed out. I waited for the next two teams and took off. We rode for awhile with me in front, yelling ride stories and smart ass remarks to my followers. They kept saying they couldn't hear me and I kept wondering why they just didn't catch up and ride next to me. Finally, I remembered that Debbie had made a point of telling them that horses should follow each other with no less than a horse length between them and we hadn't talked about riding side by side. So I unburdened myself of the fact that we *could* ride side by side and the group got a lot more compact, relaxed and chatty.
The ride was designed so that if a team averaged 3.5 mph, they would finish in the middle of the allowable time window, so I kept Sunny at a walk of a little more than that. By the time we got to our first gate, a few other horses had caught up with us. I opened the first gate, which meant that I waited for our entire crew to get through before closing it. There were six horses, enough so that in an actual competition, if the person who opened the gate waited for everyone to go through, that person would lose enough time to put them in some trouble. After that we made a rule that the first person would open the gates, and the last person in the group would close them. This actually worked well because it gave everybody a chance to either open or close a gate as we went, and we were all close enough so that we didn't risk losing any cattle - because there were cattle at the gates. Because I waited for everyone at the first gate, Sunny and I were NOT the first team through the gate and into the cattle; it was one of the clinic participants, and they marched through like total pros, and it was the first time the mare had ever seen cattle!
We lost some time while we were figuring out our gate protocol, and I found Sheila's tape that I'd dropped on Friday and had to stop and pick it up. So I pointed out to the group that we had to make up some time, so we did some trotting. When I suggested it, I wasn't sure it was my best idea, but sometimes you need to do it on rides, so I took a deep breath, and Sunny took off at her best western-pleasure jog. The entire group stayed calm, and after a couple hundred yards, we slowed to a walk again. We walked awhile, then tried it again. This time a couple of horses tried to pass Sunny, or maybe each other, and the entire group was accelerating, so we slowed to a walk again. I thought it went really well - all the participants had at least as much control over their mounts as did over Sunny, which I thought was a good sign.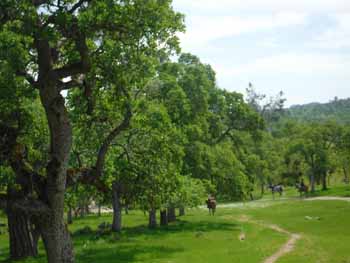 Our next point of interest was an out-and-back where Sheila had put a bunch of yellow ribbons on a tree. Each rider had to pick up one of the ribbons and take it to check-back to prove they had done the mileage. I told them that they could get off their horses if they were uncomfortable doing the side-pass and yanking the ribbon off, but all of them did it mounted.
After we all had ribbons, we headed back toward the start of the out-and-back. Just as we got there, we saw a rider blast past the intersection and head toward camp. We knew it was one of ours because he was wearing a bib. I figured it was a clinic and that he'd either figure out that he'd missed a turn or he wouldn't, so I stuck with my group. But one of the riders took off after him. And all the other teams just sort of said, "Good on them." and kept walking. So the turn-missing rider got corrected, and our group (a) proved its sportsmanship and (b) demonstrated pretty good control of their horses!
Shortly after that, we came to the P & R. It turned out that we had to spend quite awhile there because the judge wanted to see everybody mount. So we had to wait for everyone to get through the P & R and the mount and let the judge's truck get a head start before we could leave. Nobody seemed to mind the wait. In fact, with all the grass, the horses loved it.
When the truck got out of sight, we all left pretty much together. Not long after we'd started, we ran into our first bull. I passed on Sheila's advice about bulls to everyone. I guess Sunny had been listening because she'd been blase about the cows and calves, but she took one look at the bull, levitated sideways, and tiptoed out of range.
The route was sort of a lollypop shape and we were back on the stick of the lollypop, headed for camp, so I gave up any pretense of being Point and let the Fast Kids lead the way. It was impressive - they were walking at 4.5 mph! There was a final observation right before the gate into camp. You had to ride over a bunch of logs, keeping some ribbons on your right. I only saw a few horses do it, but the only ones who failed looked to me like they were just too close to home to concentrate rather than not understanding their rider's signals. I understand that they should always listen to the rider, but we were really close to the trailers. Everyone made it in safely, and I left shortly after. I almost forgot: I didn't get lost!
I was SO impressed with the skills of teams that participated. The clinic was a great idea; people seemed to really enjoy themselves, they learned some of the of the NATRC vocabulary, and I heard a lot of people say they were going to give the Leisure Division (LeD) a try. And I suspect it was the nicest weather of the entire year. Nice work, Sheila!